National Archaeological Museum
One of the greatest museums in the world with the richest collection of Greek artefacts from neolithic to classical times, spread out over some 8,000 square metres of exhibition space. You may need more than one visit to digest this extraordinary panorama of Greek civilisation and achievement.
Disabled people upon presentation of their ID card or passport and Disability Certificate are admitted free of charge. In case of 80% disability or more, one escort is also entitled to free entrance.
This site is included in the combined 3-day ticket valid for the National Archaeological Museum, the Epigraphic Museum, the Numismatic Museum and the Byzantine and Christian Museum of Athens.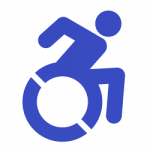 Accessible entrance:
There are stairs to enter the museum. When we reach the first steps, we will turn left to find the ramp path which will lead us closer to the entrance.
As soon as we reach the main entrance and the next steps, we will see an accessibility sign which directs us towards the left of the museum.
This sign leads us to the following path. Αt its end, there is a door on the right, leading to the ramp of the accessible entrance of the Museum.
The ramp is 40 metres long, non-slippery, with a double railing and 3 landings.
This entrance is passable by the side street of the museum as well, Vasileos Irakliou Street. It features the same, slightly upward inclination.
Accessibility as stated in their site:
There is a separate entrance for wheelchair users on the side of Vas. Irakliou Street, accessed either by a ramp from the main view of the Museum or directly from the pavement of Vas. Irakliou (see map plan on the Interior Map Premises).
Also, at the basement level there is a WC for disabled visitors with all the appropriate infrastructure.
There are lifts for access to the underground level and the first floor.
A wheelchair is also available in the museum's information desk.
Accessible route for entering the museum
Route towards the accessible entrance of the museum
Accessible entrance from the pavement as well